5 Benefits Of Commercial Air Duct Cleaning in McKinney, TX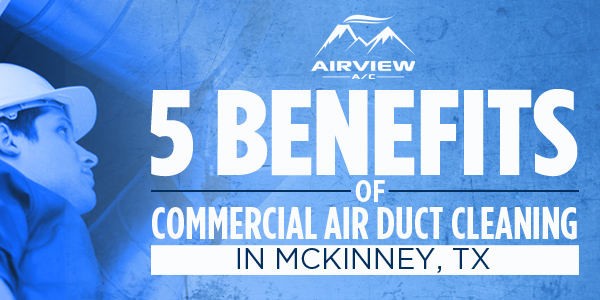 February 01, 2017
It is very essential to maintain a healthy working space. There's no wonder that ventilation is a primary concern among business owners in McKinney, TX and nearby areas. Well, all employees would prefer a place that will boost their good performance. Air conditioning units are mostly installed on buildings because of their ability to provide excellent ventilation. However, it is typical that an air duct gets clogged and dirty after several months or years of use. Good thing, there are reliable service providers for air duct cleaning in McKinney, TX.
Benefits of Commercial Air Duct Cleaning
Healthy Working Environment
Your employees and other building occupants stay healthy with proper ventilation. Along with the installation of reliable air conditioning units, it is equally necessary to pay attention to the cleanliness of your commercial air duct. By doing so, there will be lesser sick days and reduced health bills. There will also be increased productivity along the way.
Preventive Maintenance
Availing professional services will make sure that your commercial HVAC system is free from more serious issues. There's no need to undergo series of unnecessary and costly repairs if your equipment is monitored properly. Commercial air duct cleaning is one of the keys to keeping your HVAC unit in good shape all year round.
Improved Indoor Air Quality (IAQ)
Improved Indoor Air Quality (IAQ) is one of the most remarkable benefits of commercial air duct cleaning. Everyone in your building will surely enjoy improved air quality when the air duct is handled by a reliable contractor. The issues regarding substandard airflow will be resolved.
Reduced Bills
If your commercial air conditioning unit runs smoothly, your company will benefit from reduced energy costs. Entrepreneurs won't be burdened with expensive bills during daily operations. The saved money could be allotted to other company expenses.
Mold Growth Prevention
By simply maintaining the cleanliness of your commercial air duct, molds will have no space on your commercial building. Moreover, it will be possible to avoid the dangers of bacteria. Workers will have a strong shield from potential threats.
For business owners who desire to have a professionally cleaned air duct in McKinney, TX and neighboring areas, Airview AC will provide the very best services for you. If you want to enjoy the benefits of a clean commercial air duct, call Airview AC now!