6 Money-Saving Tips for Commercial HVAC Systems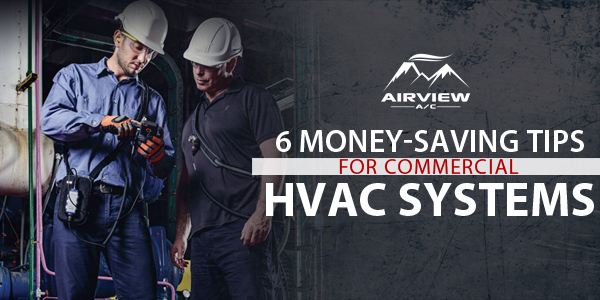 December 01, 2016
Your commercial unit utilizes fifty percent of the energy that your property consumes, so you're surely wondering how you can lower your energy costs. Keep your employees and other occupants of your business comfortable while slashing your commercial energy bills with these 5 smart money-saving commercial HVAC tips.
Change the HVAC filters regularly.
Clogged and dirty HVAC filters overwork your units by blocking air flow, which leads to poor air quality and more HVAC maintenance problems. Business managers must regularly check their HVAC filters and replace them every month. Replacing the air filters periodically can reduce energy wastage by 5 to 10 percent.
Invest in a programmable thermostat.
In any commercial building, the temperature setting could be a bone of conflict among the staff. A trusted local HVAC contractor recommends cutting it out of the equation. The trick is to install programmable thermostats in order to remove the headache of customizing temperature settings according to the diverse needs of the employee and other occupants. Building temperature settings can be programmed to run at lower or higher temperatures. Looking for a certified HVAC technician can help business owners find the most efficient programmable thermostats for their properties.
Pay attention to commercial HVAC maintenance.
Commercial HVAC maintenance is like a tuneup service for a car, where both are crucial for peak performance. Regular maintenance on commercial HVAC units and equipment is a way to ensure that those systems and components are not in bad shape due to substandard, faulty, or aging performance. HVAC contractors can help business owners reduce their energy costs by 40 percent through regular HVAC maintenance.
Get the ducts properly sealed.
Sealing heating and cooling ducts appropriately can improve HVAC performance by 20 percent of more. You can seal ducts using a blown-in duct sealant, foil tape, or mastic. To further improve the sealing effect, wrap the heating and cooling ducts in insulation. Pay attention first to the unprotected areas like storage areas.
Educate your building occupants.
Another smart way to save energy and money on your HVAC is to educate your employees and other occupants of your building. Remind them to always turn of their computer units after their shift, turn off lights that are not needed, and unplug anything that is not necessarily plugged in. Conduct a group training to educate everyone all at once.
Use timers and program controls.
Use timer and specific controls of your HVAC system. They are designed to save you money on your commercial energy bills. When no one is in the office, keep the ac units, lights, and heat turned down. For smaller commercial buildings, you can invest in a programmable thermostat. For larger buildings, using a timer system can be a good idea.
Commercial HVAC systems are crucial to your employees' and clients' comfort. However, it does not mean you have to spend so much for that comfort. Try the money-saving tips mentioned above and you'll be surprised by how much you've saved after a year.