Things to Know Before Buying a New AC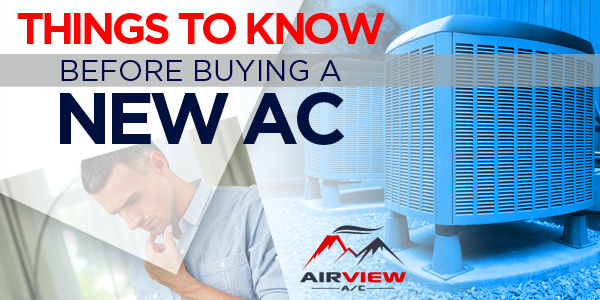 September 01, 2016
When summer sets in, there is nothing more important than having a functional air conditioner. That is why, when buying a new AC unit, you should put serious thought in learning about the different available options. The size, efficiency, type, and other characteristics of air conditioning units have implications to your decision. Here are things you need to know before buying a new air conditioner.
Price
Whether you need a new air conditioning unit, or you are ready for replacement, there are two prices involved: the cost of the AC unit itself and the installation cost. You can save by buying a unit at a wholesale cost, but expect to pay more on the installation.
Size
The size of an AC is important to keep your home comfortable. Be sure that your new air conditioner is large enough to keep you cool and comfortable, but without wasting so much energy. A system that is too small or too big for your home won't operate efficiently. Call on a professional HVAC contractor to conduct a load calculation. The technician will size your home and determine the amount of insulation to get the correct size of your new air conditioner.
Energy Efficiency
When buying a new AC, don't forget to keep energy efficiency in mind. Its Seasonal Energy Efficiency Ratio or SEER obtains the efficiency of air conditioning unit. One reminder: the state requires units with at least 13 SEER rating. AC units with a rating from 14 to 22 are considered energy efficient.
Weather-Resistant
If you're worrying about the need to hide or cover your outdoor unit during rigorous weather conditions, you can invest in a split type air conditioner. Split models are designed to withstand harsh weathers without issues. In fact, you should know that covering your outdoor units could damage the system.
AC maintenance
Most air conditioning unit makers recommend annual maintenance. When your AC unit is not properly maintained, it may void the warranty. It's best to check with your local contractors for the details. Consider getting a professional HVAC maintenance with a reliable contractor to rectify AC issues before they escalate to bigger problems.
Finding a Pro Installer
Just like choosing your new air conditioning unit, it is also important to pick out the right HVAC installer. Seek for referrals, or check unbiased review websites when looking for a reliable local contractor in your area. Once you have narrowed down your options into two or three HVAC companies, you must ask for a quote. Also, ask your local contractor to include the makes and models of the system, so you can compare prices.
With the scorching hot summer days, having an air conditioner is a necessity. However, no homeowners would wish to buy a new system that comes with high energy bills and frequent repairs later on. If you want to get the right AC for your home, you can ask for help from a trusted local HVAC contractor in your area.