AC Repair McKinney TX - Reliable 24/7 Air Conditioning Maintenance Services
Airview AC is dedicated to providing the best possible heating and cooling solution for your home or business in Frisco TX, Anna TX, McKinney TX, Allen TX, Plano, TX, and much more. You can count on us to provide you with a heating and cooling system and solution that fits your unique needs, and since we have installed many heating and cooling systems in this area, we have earned a reputation for doing the job right the first time.
Your Trusted Air Conditioning Repair Contractors Near You in McKinney
As trusted and licensed HVAC contractors and specialists in the field of air conditioning service, we have the knowledge, equipment, and expertise needed to keep your cooling system running smoothly for as long as possible, minimizing the chance of complete system failure.
If you need emergency services in McKinney or anywhere else, our skilled air conditioning and heating technicians are here for you 24 hours a day, 7 days a week. To help reduce those service emergencies, we offer preventative maintenance services to keep your comfort system running at peak performance.
Need Your Air Conditioner Serviced or Repaired? Call Today!
With regular maintenance, you will prevent small problems from becoming big problems and ensure the optimal performance of your residential and commercial comfort system. We also offer annual service agreements, which can reduce the cost of a Performance Tune-Up. That being said, if your cooling unit just broke down unexpectedly, our trained specialists are right here, ready to answer your call. Our main goal is to bring you back to comfort with great service, so give us a call!
Our History
Owners Sergio Perez and Monica Schoeman-Perez have extensive knowledge of the HVAC field. Sergio began working for a reputable Heating & Air Conditioning company 18 years ago. He started as a helper, then HVAC system technician, and after 5 years of fieldwork, was promoted to Field Supervisor.
Since then, Sergio has trained technicians, provided technical support to homeowners/installers and acted as the liaison between builders and field personnel. When he retired in 2016 and founded Airview AC, he was responsible for overseeing all Residential and Commercial New Construction jobs and retrofits (replacements).
While attending A&M Commerce as an enrollee in the school's Business Administration and Technology & Information Systems program, Monica accepted an Accounting offer at the same HVAC Company. She quickly climbed the "corporate ladder" and was promoted to CFO of the said family-owned company in 2014.
On April 1, 2021, Sergio and Monica Perez accepted Trane's Pacesetter Award 2020. This special distinction is awarded annually to dealers delivering the Trane value and benefit. Award winners demonstrate outstanding performance in all aspects of their business and are truly top performers.
In April 2022, Airview AC received Trane's most prestigious 2021 award! The SOAR award recognizes the top dealer in their region (ALL OF DFW) for outstanding customer service, product training, sales & financing. "We are most humbled and honored to receive this award. To be among the top 10 Trane dealers in this region is a blessing and to rank, top of that 10, is unbelievable and certainly a pinnacle for Airview AC.
Sergio and Monica's combined experience in the HVAC field is more than 30 years. The duo's all-encompassing technical, financial and managerial backgrounds provide a competitive edge in the industry. The other's strength compliments one's weakness.
Our Mission:
Airview AC is dedicated to building & maintaining relationships on all fronts of our residential and commercial business dealings. Providing quality work, great service, installing superior products and serving God's purpose in all that we do is the ultimate plan. Honesty, integrity and "Doing Whatever It Takes" is Airview's promise to our customers in Mckinney, Frisco, Anna, Plano, TX, and everywhere else!
How we can help you:
Through Airview's mission of building & maintaining relationships, the company's already extensive network of trade contacts and business relationships continue to grow. Our Installers are knowledgeable, dependable, well versed, and offer great service. Sergio's bilingual abilities are useful in all aspects of the building process. Competitive pricing is key in Airview's business plan for our residential and commercial customers.
Airview AC McKinney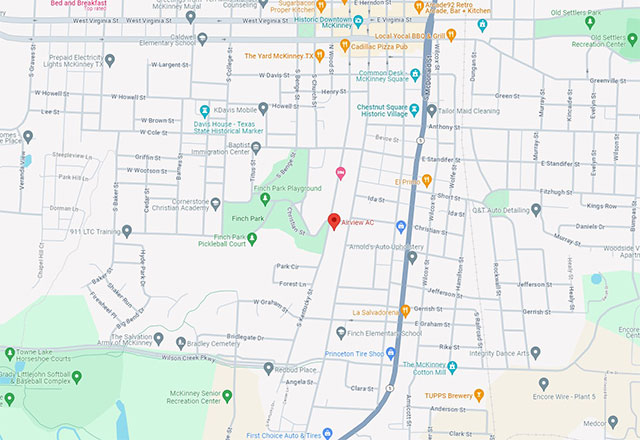 Business Information:
Airview AC
424 E Van Alstyne Pkwy, Van Alstyne, TX 75495
972-658-1784
Our Services:
Areas We Serve in McKinney, Texas, and Surrounding Areas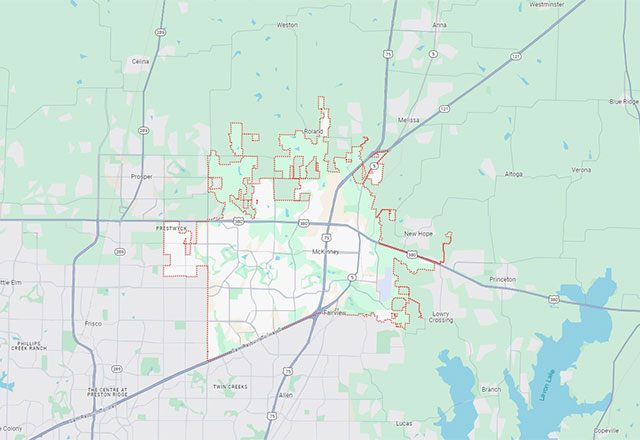 75069, 75070, 75071, 75072, 75454
Neighborhoods
Prestwyck, Mckinney Park East, Providence Village, Robinson Ridge, McKinney, Far North Dallas, Paloma Creek